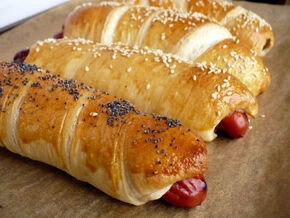 A bagel dog is a food item consisting of a full-size or miniature hot dog, wrapped in bagel-style breading before or after cooking. They are similar in concept to a corn dog or pigs in a blanket.


Bagel dogs are available as frozen prepared foods at grocery stores and at various bagel bakery outlets:
Einstein Bros Bagels
Noah's
Schwans
Ad blocker interference detected!
Wikia is a free-to-use site that makes money from advertising. We have a modified experience for viewers using ad blockers

Wikia is not accessible if you've made further modifications. Remove the custom ad blocker rule(s) and the page will load as expected.