Cronut

The 411

Other names
Doissant
Inventor
Dominique Ansel
Type of food
Breakfast, Dessert, Munchies
Where to buy
Dominque Ansel Bakery
Basic ingredients
Flour, etc.
The Cronut™ is a pastry invented by Chef Dominique Ansel and trademarked by his New York City bakery. In December 2013, Time magazine named the cronut as one of the "25 Best Inventions" of 2013.
Description
Edit
Half croissant, half donut, all delicious. The original Cronut™ is made with a laminated dough that is fried in grapeseed oil and then sugared, filled, and glazed.
A dossant or doissant (untrademarked) can also be made by frying croissant dough.
Where to find it
Edit
Original Cronut™:
Dominque Ansel Bakery (New York)
United States:
Paris Baguette (multiple locations)
Fillmore Bakeshop (San Francisco)
Square Dossants: Donut Bar (San Diego)
International:
Wildflour Cafe + Bakery (Philippines)
Da Paolo Gastronomia (Singapore)
How to make it
Edit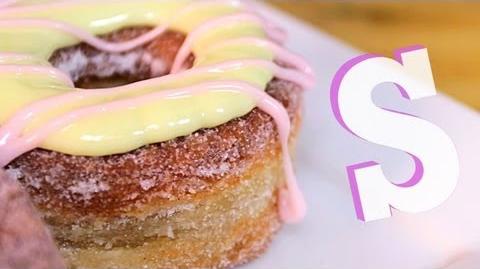 Ad blocker interference detected!
Wikia is a free-to-use site that makes money from advertising. We have a modified experience for viewers using ad blockers

Wikia is not accessible if you've made further modifications. Remove the custom ad blocker rule(s) and the page will load as expected.