Cruffin

The 411

Other names
N/A
Inventor
Mr. Holmes
Type of food
Breakfast
Where to buy
Mr. Holmes Bakehouse
Basic ingredients
croissant, muffin
The cruffin is a pastry creation from San Francisco bakery, Mr. Holmes Bakehouse. Although not invented by Mr. Holmes Bakehouse (the cruffin is based on an old French pastry), co-owner and pastry chef Ry Stephen claims to have brought it to San Francisco. In March 2015, a thief broke into the Tenderloin bakery and left the cash and iPads but stole the cruffin recipe. After the cruffin caper, demand for the already popular hybrid pastry exploded.
Description
Edit
The cruffin is cross between a croissant and a muffin. It is essentially a muffin that made out of croissant dough and filled with various flavors.
Where to find it
Edit
Mr. Holmes Bakehouse (San Francisco)
How to make it
Edit
Lady and Pups recipe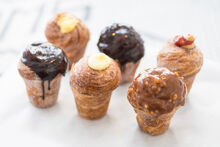 Ad blocker interference detected!
Wikia is a free-to-use site that makes money from advertising. We have a modified experience for viewers using ad blockers

Wikia is not accessible if you've made further modifications. Remove the custom ad blocker rule(s) and the page will load as expected.