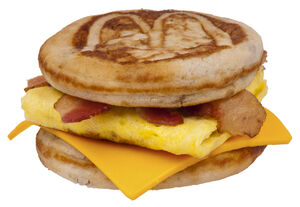 The McGriddles is a breakfast sandwich that replaces the bread in a standard breakfast sandwich with pancake sold by McDonald's. Introduced in 2003, it is available in the American, Turkish, Canadian, Polish, Japanese, Guatemalan, and Mexican markets.
Description
Edit
The "standard" McGriddles sandwich consists of bacon, egg and American cheese served on a small pancake made with maple flavoring. Both the top and bottom griddle cakes are embossed with the McDonald's logo.
Bacon, egg, and cheese
Scrapple, egg and cheese (served in the Philadelphia region)
Spam, egg and cheese (served only in Hawaii as a promotional item)
Chicken and cheese (served in the Southeastern United States)
Ad blocker interference detected!
Wikia is a free-to-use site that makes money from advertising. We have a modified experience for viewers using ad blockers

Wikia is not accessible if you've made further modifications. Remove the custom ad blocker rule(s) and the page will load as expected.