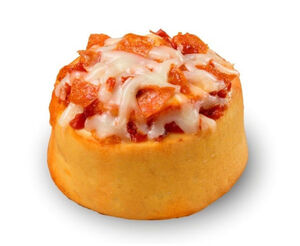 In August 2012, Cinnabon owner, Atlanta-based Focus Foods, introduced the Pizzabon, a savory version of the famous, sizeable Cinnabon pastry with melted cheese, pepperoni, and tomato sauce on top. The Pizzabon was part of a bakery-cafe at Cinnabon's Cumberland Mall Atlanta location that was used as a test kitchen for new products that went beyond desserts.
Ad blocker interference detected!
Wikia is a free-to-use site that makes money from advertising. We have a modified experience for viewers using ad blockers

Wikia is not accessible if you've made further modifications. Remove the custom ad blocker rule(s) and the page will load as expected.