For when you are very hungry for Pizza, but somehow cannot get Ramen out of your mind, there is Ramen Pizza, or as we like to call it, Rizza (pronounced /Ritza/).
Seriously! And seriouseats has a recipe for preparing it. Main ingredients are Ramen, mozzarella cheese, Pizza sauce and Olive Oil.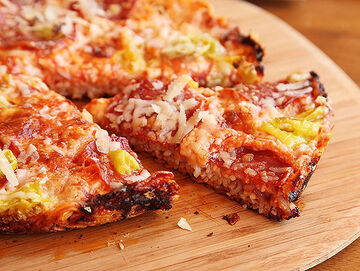 Reference:
seriouseats
Ad blocker interference detected!
Wikia is a free-to-use site that makes money from advertising. We have a modified experience for viewers using ad blockers

Wikia is not accessible if you've made further modifications. Remove the custom ad blocker rule(s) and the page will load as expected.